Architectones


June 2013


by Susannah Tantemsapya
Architectones is a site-specific, experimental series established during the late summer of 2012. Artist
Xavier Veilhan
collaborated with curator/architect
Francois Perrin
to create three, distinct installations in Los Angeles for its debut.
Beginning at the VDL House, Veilhan staged a sculptural intervention with Richard Neutra's original live/work architectural design. The second was a one-night performance at Pierre Koenig's Case Study House #21 filling the entire space with ethereal, white smoke.
Xavier Veilhan
"Lautner", 2013
Aluminium, polyurethane paint; 76 x 29 1/2 x 19 1/4 inches / 193 x 75 x 49 cm
Exhibition view "Architectones, Sheats-Goldstein Residence", Los Angeles, 24/04 - 26/04/2013
Courtesy Galerie Perrotin, Hong Kong & Paris
photo : studio Xavier Veilhan ; © Veilhan / ADAGP, Paris & Ars, New York, 2013.
Most recently, they turned the iconic
Sheats-Goldstein Residence
into a living dialogue between art, architecture and music (composed by Nicolas Godin of Air). Designed and built by John Lautner in the early 1960's, this modernist home is an angular extension of its surrounding natural environment. Its flamboyant owner,
Jim Goldstein
, acquired the home in 1972 and has worked extensively to preserve its integrity. (Many also recognize it as Jackie Treehorn's pad in The Big Lebowski.)
In June, Architectones is the inaugural installation at MAMO, the newly redesigned rooftop of Le Corbusier's Cité Radieuse in Marseilles. Conceived by

Ora-ïto

, this modernist gym has been transformed into an ambitious, contemporary art center.

This series pays homage to Kazmir Malevich's "Architectons." Concurrently, this relationship to art and Supremacist architecture is explored through the cinematic

Hans Richter: Encounters

exhibition on view at LACMA.

Whitewall spoke to Veilhan and Perrin during its latest rendition in Los Angeles.

Whitewall: How does the exhibition at the Sheats-Goldstein Residence further this site specific installation series?


Xavier Veilhan: It's always a dialogue with the architecture, but also with the owner. Here, it's a private owner who is probably the most involved person in the architecture of his own house. Jim Goldstein has been working on it for almost 40 years. He extended the work of John Lautner–who died in the early 90's–with Lautner's assistant at the time, Ken Nicholson, who we actually worked with on this project. Ken is still working to improve the house and maintain it. Also there's the tennis courts and the nightclub they are building on the other side, which is very crazy, so you have to take a look.


It's also devotion to the work of the architect. It's very generous and unusual to host people in this way. At first I thought it was a matter of confrontation with the architecture. Then I realized that it's about relating to people through discussion and interaction. Also, what you can and can't do, what is technically possible. It makes the whole thing quite exciting because it's very unexpected.




WW: How did you start collaborating together?

Francois Perrin: Xavier is an old friend from Paris. At first, he was going to do this project in Marseilles, but that got postponed and the project in Los Angeles became the first project. Because I'm here, it was natural that I became the curator. I organize, but also talk about the work, the architecture and how to deal with these houses; not to be in a white cube which is a more abstract way of showing art, the classic kind of way. When you deal with architecture, it's totally different. You're not in an abstract place, you deal with something that is already there as a strong presence. So we started a pressing discussion about what should be done, what kind of piece to produce and where to put it.




WW: Why is Modernist architecture compelling?

XV: There is a failure in the history of modernity because it was meant to be global. Most of the houses were meant as templates for other housing built with cheap material. And it never happened. These houses are unique, and turned into kind of pristine places, even if these were fabricated with very simple materials. They deserve to have a broader audience than the actual owner. We forgot about it because when they got older, the figures of (Richard) Neutra or (Rudolf) Schindler tended to be more serious. They were beatniks in the beginning. There is an idea behind it, the relation to nature and to hedonism. For example, this glass wall didn't exist during the first year of the construction of this house (Xavier points to it).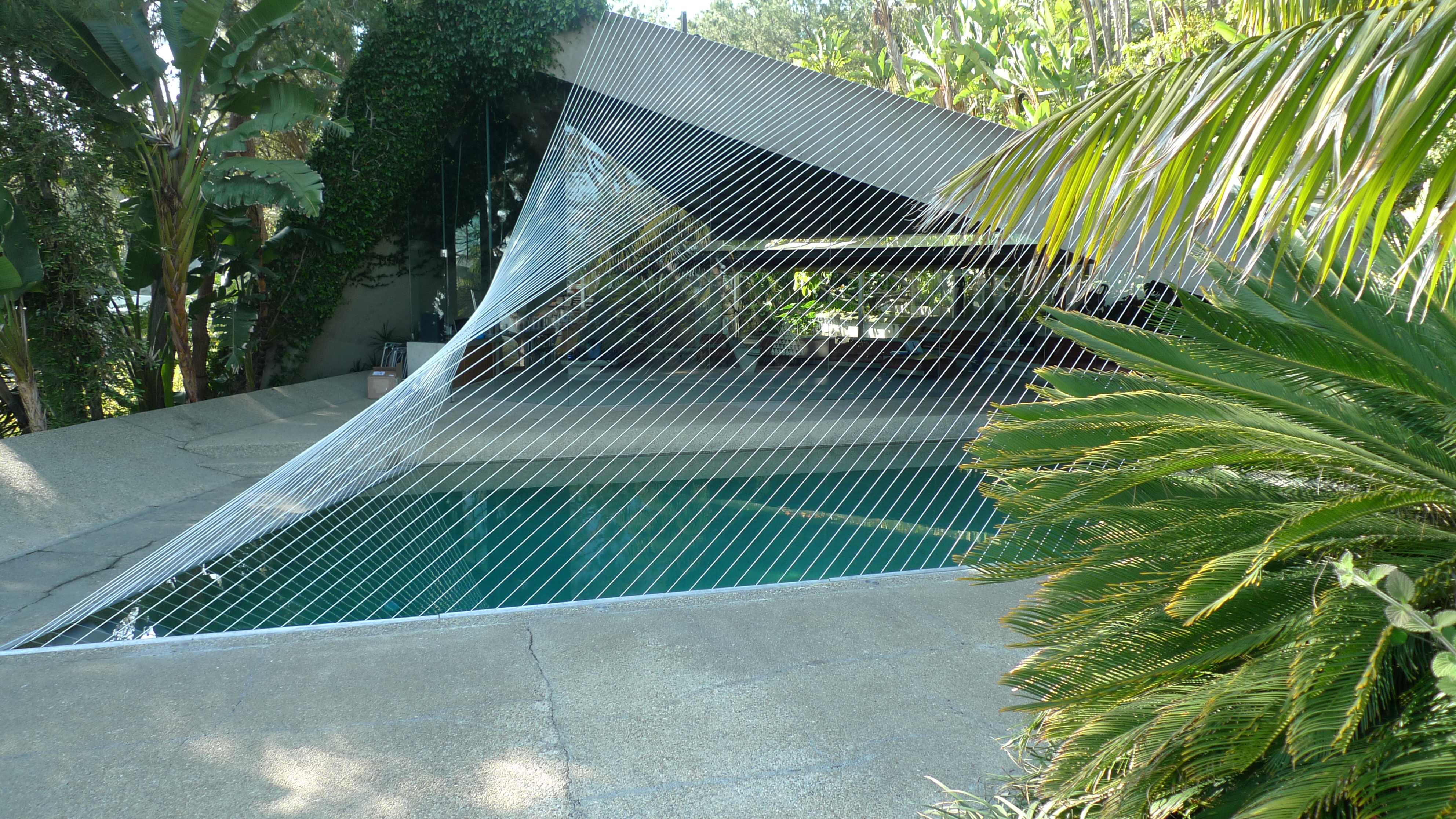 Xavier Veilhan
"Rays (Lautner)" / "Les Rayons (Lautner)", 2013
Rubber, polyester, steel ; variable dimensions
Exhibition view "Architectones, Sheats-Goldstein Residence", Los Angeles, 24/04 - 26/04/2013
Courtesy Galerie Perrotin, Hong Kong & Paris
photo : studio Xavier Veilhan ; © Veilhan / ADAGP, Paris & Ars, New York, 2013.
WW: So it was completely open?
XV: Yes, it was like a cave. It was an air curtain, like when you go to the supermarket and there are open doors. Of course, after a while they had to block because it was too cold in the winter. As a kid, I always thought architecture should be like that: a lot of windows and a lot of air. All this architecture is not really about size. It's not like a skyscraper or a huge apartment or like Versailles. I'm attracted to the size of it.

Xavier Veilhan
"Rays (Lautner)" / "Les Rayons (Lautner)", 2013
Rubber, polyester, steel ; variable dimensions
Exhibition view "Architectones, Sheats-Goldstein Residence", Los Angeles, 24/04 - 26/04/2013
Courtesy Galerie Perrotin, Hong Kong & Paris
photo : studio Xavier Veilhan ; © Veilhan / ADAGP, Paris & Ars, New York, 2013.





WW: You've been doing this whole series "Dialogues" - the conversations between art and architecture. How does this exhibition continue to blur these lines?

FP: Architecture is my main practice, but I grew up in the art world through my parents and then I studied at the Beaux-Arts, so I was close to artists. I have always collaborated with artists. Before moving here, I always was somehow closer to the art scene than the architecture scene. "Dialogues" is showing two parts of my life. My time in Paris when I was a practicing and working in artists, and now my time in Los Angeles. I want to connect these two worlds.

WW: The future of Architectones is expanding into Europe. Can you describe its next steps?

XV: There's an opening on June 8th on the rooftop of the Le Corbusier's Cite Radieuse (1952) in Marseille. It's a big show with 15 pieces. Then after that it's Ste-Bernadette du Banlay (1966) which is a very special church designed by Claude Parent and Paul Virilio in Nevers, France. Then the Mies van der Rohe Barcelona Pavillion (1929). Possibly, we are working with the Melnikov's House (1929) in Moscow. This house is the beginning of post-modernism. I'm not interested in a set approach. I like to interact with the environment. I don't know the word in English, but the French would say "panache." It's optimistic architecture. It's sharp and dynamic.



WW: Nicolas Godin (of the French band Air) composed "Lautner's theme" which he describes as a "sensory experience" that can create a deeper emotional element to the overall exhibition. The musical piece also exists as a triangle object, can you explain how that works?

XV: It's exactly between a concept and a physical object. I'm interested in linking the lyrical power of music to an object that is very simple, a triangle record. I'm doing a series of acetates which are templates to make molds used for pressing vinyl. Of course, the triangle shape of the vinyl does not fit well on a turntable. The thing is to simply connect ideas, and not everything.


---
Xavier Veilhan, a Paris-based artist, has exhibited extensively throughout Europe, the U.S. and Asia. In addition to sculpture and public art, his polymathic work includes painting, digital photography, film and performance art. He has collaborated with musician Sébastien Tellier, the band Air, renowned designers Ronan and Erwan Bouroullec, and artist Daniel Buren.

Francois Perrin is an architect who lives and works in Los Angeles, California. He was born in Paris where he received his professional degree in architecture and was the recipient of the Electra Grant for Young Architects. He is the author of the book Yves Klein: Air Architecture and the related exhibition has been presented at the Mak Center in Los Angeles, at Storefront in New York, and at the MAK in Vienna. Perrin has taught at several institutions including the Art Center College of Design and Sci-ARC, and he has lectured at the University of Southern California; the University of California, Los Angeles, and Columbia University, among other places. He was a board member of the Los Angeles Forum and his work has been featured in the New York Times, the Los Angeles Times, Sunset, Dwell, and Wallpaper. He is working on an upcoming publication on the Architecture of Climates.