John Baldessari's


February 2013

by Susannah Tantemsapya

Learn To Dream, Aprende A Soñar
"Just learning information is not enough. It's necessary to dream,"
expresses John Baldessari about his latest public art contribution, Learn To Dream, Aprende A Soñar.
Launched on January 8th, this is the second wave in a series of exhibitions for
Arts Matter
, produced by ForYourArt and presented by The Los Angeles Fund for Public Education. This unprecedented initiative is distributed across 12 metro buses along with 48 static locations including: billboards, bus shelters, wallpostings, mall media and bulletins.
A revisited phrase throughout the artist's career, the bilingual nature of Learn To Dream, Aprende A Soñar instigates a discussion about arts education, while also investigating the diversity and culture of Los Angeles. Baldessari's handwritten; chalkboard etchings transform city buses into a fleet of yellow and black school buses during this four-week installation.
"What is most interesting about public art, particularly in this moment, is that advertising has become so sophisticated. Whether or not people know that they are encountering public art or not, the hope is that it gives people a moment to pause. Slowing down is such a valuable thing in this fast moving time that we're in," notes Bettina Korek, founder of ForYourArt.
In October, artist
Barbara Kruger
kicked-off the entire campaign with her signature, graphic style. Two more world-renowned artists (TBA) will participate in March and July. The total value of this yearlong project is over $4 million with approximately 900 million "eyes on artwork" impressions. The LA Fund is providing multi-year school grants to establish "arts integration" programming in the Los Angeles Unified School District (LAUSD). Being the second largest public school system in the country, this is an impressive example of how to re-invigorate arts education despite its pre-existing, slashed budgets.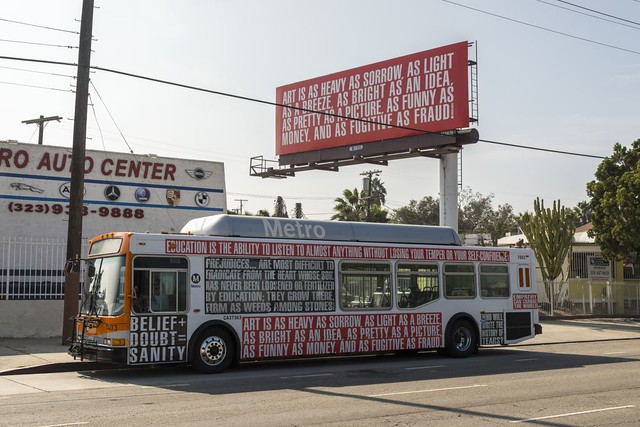 School Bus (2012)
Barbara Kruger
Learn to Dream, Aprende A Soñar (2013)
John Baldessari
"We're still learning how to close the loop with public art in terms of having people make the connection to what they see in the street and forging a longer relationship with the organization that's involved with it," continues Korek. "Being part of this larger Arts Matter campaign, it's an experiment in new ways of provoking engagement beyond being topic in the street and bringing that to an experience online, hopefully leading to more information about the artist and what the art is about."


---
John Baldessari was born in 1931 in National City, California. He received a BA and MA from San Diego State University and completed postgraduate work at both Otis Art Institute and Chouinard Art Institute.

For more than five decades, Baldessari has created thousands of works that demonstrate—and, in many cases, combine—the narrative potential of images and the associative power of language within the boundaries of the work of art. He has continually explored these themes in painting, photography, film, video, site-specific installations, artist's books, sculpture, drawings, prints, and multiples.

Since 1957, Baldessari's work has been featured in more than 950 solo and group exhibitions in the United States and Europe. He has been the subject of numerous retrospective exhibitions, including those organized by the New Museum, New York, in 1981; the Instituto Valenciano de Arte Moderno, Valencia, Spain, in 1989; the Museum of Contemporary Art, Los Angeles, in 1990; Cornerhouse, Manchester, UK, in 1995; the Museum Moderner Kunst Stiftung Ludwig, Vienna, and Kunsthaus Graz, in 2005; and Tate Modern, London, and the Los Angeles County Museum of Art, in 2009.

As a teacher from 1970 to 1988 at the California Institute of the Arts, and from 1996 to 2007 at the University of California, Los Angeles, Baldessari instructed and influenced generations of artists. He lives and works in Southern California.
---