Mike Kelley's Mobile Homestead


at MOCA in Los Angeles

July 2014

by Susannah Tantemsapya
As the Museum of Contemporary Art's MIKE KELLEY retrospective draws to a close, so does the two-month residency of one of his most interactive works, Mobile Homestead. This community space and art gallery is a detachable façade on wheels; part of a full-scale replica of his suburban, childhood home that is permanently installed at the Museum of Contemporary Art Detroit (MOCAD).

This is Kelley's "most sustained and largest piece of public art…taking the private space into the public space," remarked MOCA retrospective curator Bennett Simpson. It investigates the notion of public art for Detroit: "a public artwork for a city with no public."
Mike Kelley, Mobile Homestead Rolls Into Los Angeles
Photo © Aleks Kocev/BFAnyc.com




For the first time outside of the Motor City, Mobile Homestead literally rolled to Los Angeles along the highways of America (not without a few flat tires). It sits perched beneath the Frank Gehry canopy outside to the Geffen Contemporary, acting as a hub for social services, art and educational initiatives through July 28.





MOCA's

programming

integrated several local organizations to provide "public service activations" - upcoming events include:

July 26

Local United Network in Combating Hunger (L.U.N.C.H.) workshop to make several hundred bag lunches (each cost under a dollar) to be donated to Union Rescue Mission the following morning.

July 27/28
Our Skid Row Interactive Design Workshops on how to transform this area by looking at housing, public spaces, creative spaces, services, food access, health/sanitation, public safety, recreation, etc



"Mobile Homestead is about the suburbanization of life. It was designed for social service and justice initiatives to upend the notion of a private, safe withdrawal," said John Malpede, Founding Artistic Director of Los Angeles Poverty Department (LAPD).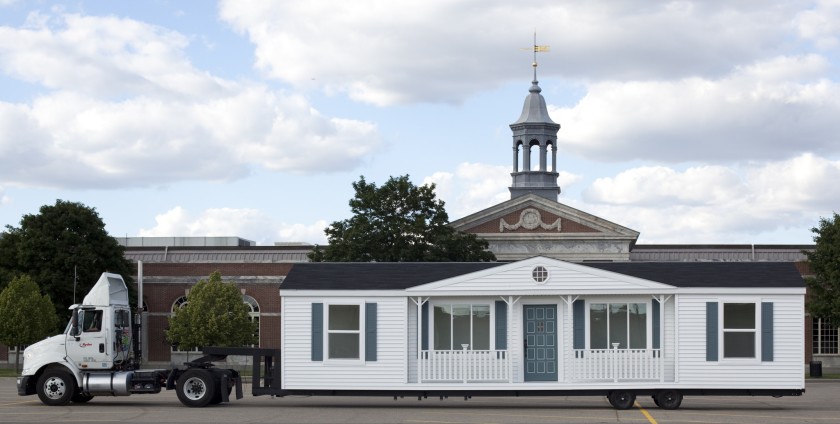 Mike Kelley, production still, "The Mobile Homestead in front of the Henry Ford Museum, Dearborn, Michigan," 2010. (Corine Vermuelen / Courtesy of Mike Kelley Foundation for the Arts © Estate of Mike Kelley)




This performance collective (formed in 1985) welcomed Mobile Homestead to Los Angeles during their WALK THE TALK parade through Skid Row in May. LAPD also installed a visual timeline of Skid Row, previously at the Queens Museum, during the first month of the residency: "Our installation is about the history of Skid Row: documentation of the vitality of this longstanding community, how it was developed by the people living and working there. This community has grown organically over a period of time, and is sometimes misrepresented by others. This is an attempt to remedy that. The attraction of urban life is that it is challenging, diverse and complex," denotes Malpede.

Kelley also proved himself to be a compelling documentarian, creating two films about present-day Detroit seen through the POV of Mobile Homestead as it moved through its thoroughfares to the suburbs where he grew up: Going West on Michigan Ave from Downtown Detroit to Westland and Going East on Michigan Ave from Westland to Downtown Detroit. Kelley captured a comprehensive portrait of his hometown with the kind of intimacy only known from being part of a community itself. The films are installed within the retrospective along with a recent, special screening at Art Center College of Design.



The Mobile Homestead in front of the original Kelly home on Palmer Road in Westland, Michigan, 2010, Photo: MOCAD

Perhaps its Kelly's own words that are most apropos to this ever-burgeoning project: "Mobile Homestead covertly makes a distinction between public art and private art, between the notions that art functions for the social good, and that art addresses personal desires and concerns…It has a public side, and a secret side."
---
Mike Kelley Foundation for the Arts offers free admission to the Mike Kelley retrospective every Saturday night in July through its closing party co-hosted with Opening Ceremony on July 26.